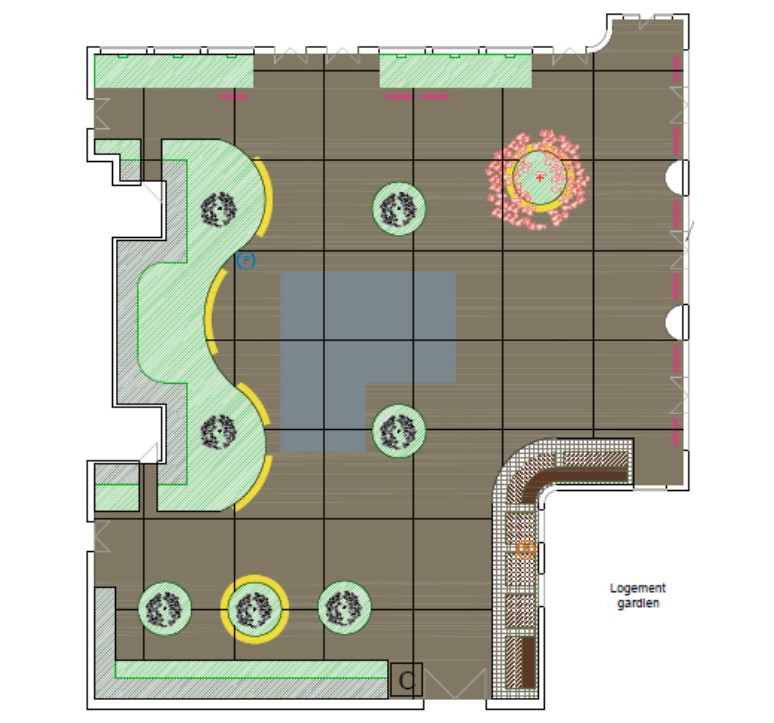 Regions:
Oceanic climatic
Scale:
Ecosystems:
Urban
Goals:
Enhancing sustainable urbanization, Developing climate change mitigation, Improving risk management and resilience
Nbs actions:
Urban regeneration through nature-based solutions, Nature-based solutions for improving well-being in urban areas
Topics (Keywords):
Nature-based solutions, Public health, Regulating service, Resilience, Climate change, Ecosystem services, Green infrastructure
Start/End date
31 May 2018
Design Team
Sébastien Maire, Chief Resilience Officer for the City of Paris
Area Characterisation
Paris is vulnerable to flooding from the Seine river. It is also a compact mineral city, increasingly subject to the heat island effect. Unpaving, greening and planting trees are thus real challenges and absolute necessities. Fortunately, implanting refreshing pockets of nature on permeabilized soil is made possible by the globally dense and homogeneous repartition of schoolyards. This is just what this project aims at, together with more education- and climate security-oriented purposes.The "Oasis" Schoolyards programme takes place in the wider framework of Paris' Resilience Strategy. As such, it also attempts to meet the local requirements of socio-spatial inclusion, public environmental health and climate change mitigation.
Objectives
Reduce the local heat island effect
Provide pupils with a healthy and stimulating learning environment
Educate residents to risk culture on climate change
Make refuges of freshness available to the most vulnerable populations
Create numerous meeting spaces to spur conviviality and solidarity
Actions
By using a light-coloured, low carbon footprint substrate with a modular porosity on schoolyards grounds, the latter are expected to be much cooler.
The ground's cooling effect will be enhanced with the additional use of rainwater, by evapotranspiration. Furthermore, it is to be reusable for water games or school gardening too.
The increase of trees, school gardens, green walls and roofs and the shade they provide will also help to locally temper with heat waves. Moreover, several vegetable gardens should contribute as well to the children's environmental awareness.
Artificial installations are integrated to renaturation project, for shade houses will punctually supplement the other infrastructures. Combined with various cooling techniques and kinetic energy collection infrastructures on playgrounds, they are aimed at cooling down schools and reducing their energy consumption.
Potential impacts/benefitis
Challenges

/goals

Enhancing

sustainable

urbanisation

Restoring

ecosystems and

their functions

Developing

climate change

mitigation

Developing

climate change

adaptation;

improving risk

management

and resilience

Challenge 1 :

Air/ambient

quality (to

reduce UHI

effect and/or

to improve

air/ambient

quality)

Improve air

quality.

Reducing

temperature at

meso or micro

scale.

Challenge 2 :

Climate

resilience

Increase

population &

infrastructures

protected by NBS.

Reduce droughtrisk.

Reduce flood risk.

Reduce risk of damages from drought.

Challenge 3 :

Water

management

Improve water

quality.

Increase

infiltration /

Water storage.

Reduce load to

sewer system.

Reduce run-off.

Flood peak

reduction.

Challenge 4 :

Public health

and well-being

Increase well-being.

Provision of

health benefits.

Increase

accessibility to

green open

spaces.

Changing image of the urban environment.

Carbon 

sequestration

and storage.
Challenge 5 :

Green space

management

(including

enhancing/

conserving

urban

biodiversity)

Increase Biodiversity.

Increase achievements of biodiversity targets.

Challenge 6 :

Social justice

and social

cohesion

Increase social

 interaction

Increase

communities' sense of ownership.

Social inclusion

Challenge 7 :

Participatory

Planning and

Governance

Social learning

about location &

importance of NBS.

Increase stakeholder

awareness &

knowledge about NBS.

Increase awareness of NBS solution & their effectiveness and co benefits.

Challenge 8 :

Urban

regeneration

Increase amount

of green open

spaces for residents.

Increased cultural

richness and biodiversity
NBS benefits
Developing climate change adaptation; improving risk management and resilience
Flood peak reduction
Increase infiltration / Water storage
Reduce drought risk
Reduce flood risk
Reduce load to sewer system
Reduce risk of damages from drought
Reduce run-off
Reducing temperature at meso or micro scale
Developing climate change mitigation
Carbon sequestration and storage
Restoring ecosystems and their functions
Increase achievements of biodiversity targets
Increase Biodiversity
Increased cultural richness and biodiversity
Enhancing sustainable urbanisation
Changing image of the urban environment
Improve air quality
Improve water quality
Increase accessibility to green open spaces
Increase amount of green open spaces for residents
Increase awareness of NBS solution & their effectiveness and co benefits
Increase communities' sense of ownership
Increase population & infrastructures protected by NBS
Increase social interaction
Increase stakeholder awareness & knowledge about NBS
Increase well-being
Provision of health benefits
Social inclusion
Transferability of the Results
The results of this programme can be transposed to cities who want to:
Adapt cities to climate change by an urban and natural development:

Choose urban development considering NBS for social and climate challenges o Anticipate the evolution of urban infrastructure: consider NBS in face of repeated heat waves

Organize a participative management
Lessons learned
Process:
Integrated vision in response to various urban vulnerabilities
Inclusive approach of residents, public institutions and private sector
Share ideas and innovations from their cities
Objectives:
Ability to think systemically in order to multiply the benefits
Flexibility: natural and modular spaces and facilities capable of accommodating uses
Publications & Reports
Mairie de Paris (2017, October), Action 10 : Transformer les cours d'écoles en « oasis », véritables îlots de fraîcheur (p.67), Stratégie de Résilience de Paris, paris.fr , Retrieved March 2018, from https://api-site-cdn.paris.fr/images/95335
GARAT Henri, Mairie de Paris, « Oasis » Schoolyards [not available online yet]
Financing
The Municipality of Paris funds the project.
Organisations
Mairie de Paris (Paris city council) and affiliated services, town halls of the concerned arrondissements of Paris, Education Nationale (national education).
Information on this page is hosted by